ON-GRID SOLAR PV SYSTEM
If you're looking for a way to save money on your power bill, increase the value of your home or office, and reduce your carbon footprint without losing the security of the public power grid, then grid tie solar system is the solution.
Although it is perfect for homeowners, a grid tie system is also an effective solution for commercial/Industrial applications and showcases a company's commitment to sustainability.
Grid tie refers to a power system that generates electricity from a Solar PV array. A special inverter regulates and converts the energy generated into utility power requirement (Single/three phase output) the inverter syncs this power with the utility power and feedback to the utility grid.
MechaTronix specializes in custom-designed grid tie solar rooftop systems both with and without battery backup. This energy system does not consist of battery bank for storage of energy and is generally used in areas where the power is required only during daytime. This system cannot be used as a standalone unit.
An on grid solar system or grid-connected photovoltaic power system is a solar system that generates electricity and is connected to the utility grid. It consists of solar panels which are connected to one or more inverters. The electricity generated by the Solar panels is a DC current which needs to be converted to AC through inverters. There are no batteries involved and all the excess power after utilization is fed back to the grid.
No batteries make this system relatively cheaper and easier to install than the off grid system. The on grid systems may range from small residential and commercial rooftop systems to large utility-scale solar power stations.
A grid-connected photovoltaic power system will reduce the power bill as it is possible to sell surplus electricity produced to the local electricity supplier. Since the batteries are not involved there are no storage losses involved and it serves effective utilization of the generated power.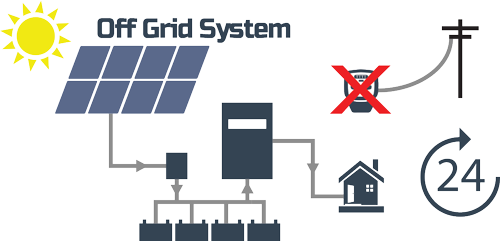 OFF-GRID SOLAR PV SYSTEM
Off-grid solar energy systems convert sunlight into electricity without connecting to local utility grids. They are ideal for areas without public grid access.
Off-grid solar energy systems include storage solutions such as batteries that allow excess electricity to be saved for future use. The main components of off-grid systems include solar panels, inverter, and batteries.
MechaTronix provides complete range of off-grid solar energy solutions that include solar panels, inverter, batteries and complete balance of system.
An off-grid solar energy system can be used as a mobile or back-up power supply for homes, petrol pumps, medical clinics, telecommunications stations, meteorological stations, forest fire stations, and village schools, especially those located in areas without public utility grids, such as a remote areas or islands and mountainous regions. In these cases, off-grid solar energy systems replace conventional power generation solutions such as diesel generators.
Unlike a grid-tied system, a solar system with batteries consists of three separate systems all working together to create, store, and deliver energy for your electric loads. We, as a solution provider, ensure each component is properly sized for the specific energy needs and environmental conditions of a premise. This will explore sizing a stand-alone solar system based on an average daily load in kilowatt hours that shall be calculated from your usage habits.
To size the solar array based on the average daily electric load obtained, one needs to know how much sunlight hits the site on a daily basis. With the daily load in kilowatt hours and the solar resource in sun hours, the solar array size will be calculated. Thereafter comes the decision of sizing of the battery bank and the inverter, all of which our experts at MechaTronix will take care of.
HYBRID SOLAR PV SYSTEM
Hybrid solar systems generate power in the same way as a common grid-tie solar system but use special hybrid inverters and batteries to store energy for later use.
This ability to store energy enables most hybrid systems to also operate as a backup power supply during a blackout, similar to a UPS system and all the excess power after utilization is fed back to the grid. This system is the combination of both On-Grid and Off-Grid solar PV system.
Traditionally the term hybrid referred to two generation sources such as wind and solar but in the solar world the term 'hybrid' refers to a combination of solar and energy storage which is also connected to the electricity grid. MechaTronix specializes in custom-designed Hybrid solar rooftop systems.
We'd love to hear from you
Whether you have question about our service, features, pricing, need a demo, or anything else, we are ready to answer all your questions.
Mechatronix
We're the #1 Suppliers For Industrial Electronic & Mechanical Components & Solar Power solutions.